BOYCOTT THE DOMINICAN REPUBLIC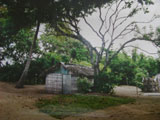 "MAMA D.O.C."'s Logwood Project buildings and orchard wiped out.
4,000 poor people displaced.
Hundreds of beautiful homes destroyed.
Thousands of producing fruit trees bulldozed.
People forced at gunpoint to sign mysterious papers.
Natural area destroyed – one of the last of the coastal ecology.
Last remaining coastal Native culture genocided.
Boca Nueva, Bergantine and Los Cocos were wiped off the face of the earth on Wednesday, March 8th, 2006. This action was taken by the Central Bank of the Dominican government, one day after agreeing to grant the people the rights to their villages and their lands. The Church, human rights group, fraud investigation unit and the local governor backed the villagers who had united themselves. The day after the agreement was promised, they were forcibly evacuated whilst their gardens, trees, homes and lives were bulldozed in front of their wailing eyes.
Please do not support the government of this country, nor any of the mega businesses that are fulfilling their plans to turn this beautiful island and unique culture into a slave state. Please understand that tourism brings only more poverty to this country and her people: the personal story above is only one of hundreds. Children I have worked with for seven years now face the reality of a life of drug dealing and prostitution (boys, girls and children), which is the truth of tourism on this island.
For these crimes against humanity, we ask that you boycott all industrial products, foods and meat from the Dominican Republic. We ask that you do not go to any resorts in the country. Please share this information with others. Please write to people in businesses and governments about this shame.
MAMA D.O.C. Inc., non-profit, continues to import Logwood for dye and herbs for medicines. The income generated by these small efforts is of even greater importance, for the people must now survive in a cash money economy, and there are no jobs. Purchase products, 100% of which goes to the Logwood Project, at www.aurorasilk.com and www.natural-safe-hormones.com.
Donations to Mama D.O.C. for the Logwood Project go to purchase school supplies for the children and to pay for medicines. If an Angel donor exists, land is available to purchase where some of the families could be relocated to recreate their traditional community. All donations are U.S. Federal tax deductible. Thank you for your help.